Lost in the stacks. (True Story Swear to God)
I love comic books. I've been collecting for roughly the last decade. However, I'm not drawn toward traditional titles. Somehow, I gravitate toward limited run titles. These comics, more often than not, fall through the cracks and are forgotten, lost to time. This column aims to shine a light on these titles and, hopefully, make them some new fans...or draw out the old ones.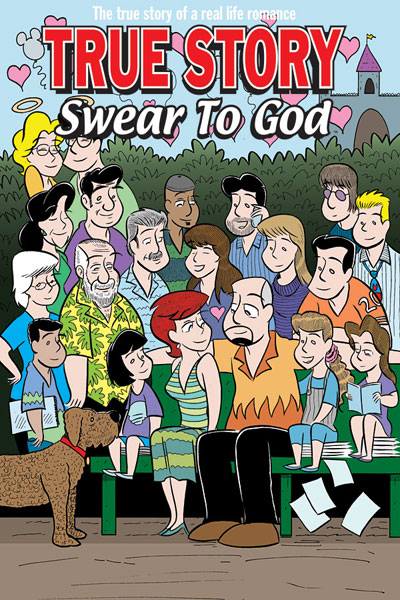 How far would you go for true love? Would you, say, upend your roots in California to be with your beloved, who lives in Puerto Rico? Even more, would you chronicle this new relationship in a warts-and-all comic book series? Well, cartoonist Tom Beland did just that.
While on assignment at Disney World (referred to, presumably for legal reasons, as the 'magical kingdom'), Beland happens upon Lily Garcia, who's something of a celebrity in Puerto Rico. The two of them hit it off right away and so begins a whirlwind courtship, filled with family gatherings and the logging of several frequent flyer miles.
There are actually two runs of this comic. The first consists of 17 issues put out by Clib's Boy Press (Beland's self-published label) that cover the first meeting through the first few months of Tom's life in Puerto Rico. The second, released by Image Comics, continues through to the beginning of Tom and Lily's marriage.
It has to be said that Puerto Rico, from the citizens to the scenery to the food, is a character unto itself. (The rendering of El Morro in the fourth issue of the Clib's Boy run is very eye-catching and really stands out amongst the simple artwork of the comic.) It looks like a great place to visit...though given the arc of Clib's issues 5 through 7; living there might be a problem. As compelling as the scenes are, I couldn't handle a hurricane.
The authenticity of the dialogue is another asset. In just about every issue, the conversations feel real, likely because they are. It almost feels like eavesdropping as much as getting a look at the relationship. One could quibble about the profanity, but maybe one needs to leave the bubble of canned romantic stories.
Besides, who needs predictable rom-com nonsense when you have characters like Tom's brother Joe; the story of the fish sandwich (in Clib's issue #2) still makes me chuckle. And then there's Lily. One can see what drew Tom to her. This line from the first Image issue endeared me to her: "I think it's far worse to wonder if something would fail than to know it did fail."
If the love story turns you off (*coughheartlessschmuckcough*), I highly recommend the collection "100 Stories" (incidentally, Tom sent these to Lily so that she'd learn more about him; second issue of the Clib's Boy run). Sure, there are a number of relationship strips, but most of them cover Beland's childhood growing up with his family. The matter-of-fact, oh-man-I've-been-there storytelling, at times, recalls the style of Jean Shepard*.
For an appealing slice-of-life comic, look no further than this.
Grade: A-
Availability (if any): The individual issues of the Image run are available from Mile High Comics. The collection of Clib's Boy issues (released by Image, incidentally) and the collection of '100 Stories' can be found at Amazon.
* - I've not read a word of Shepard's stories, but I have seen
A Christmas Story
and the comparison, in my view, isn't that exaggerated.
Labels: Lost in the stacks