My Favorite Scores: Land of the Lost (Michael Giacchino)
I can't say it enough, kids: I love film music. The sounds, the melodies, the emotions it arouses. I've had an interest in film music for roughly two decades and, in that time, I've come across a number of scores that I've no qualms about calling my favorites.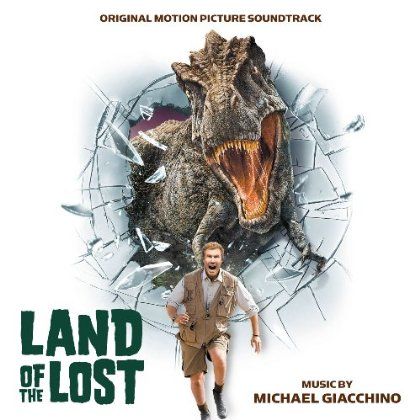 When adapting a television show to the cinematic medium, does one produce a straight-up translation, retaining the seriousness of the original, or does one take a comic approach, having a laugh at (and hopefully with) the source material? In recent years, the trend has fallen more toward the latter, for good or ill (
Starsky and Hutch
,
21 Jump Street
,
The Dukes of Hazzard
). This is but another example.
Paleontologist Rick Marshall (Will Ferrell) has lost a good deal of credibility because of his theories of traveling sideways through time. Thanks to the efforts of devoted assistant Holly Cantrell (Anna Friel), he just might get it back. If one wishes to call this a soulless bastardization of the 70s adventure series, you are more than welcome to...but if one wishes to call this a bad comedy, you're just being catty. This is one of the funniest films I've seen in recent memory...and, in my mind, far preferable to Ferrell's glorified outtake reels (
Step Brothers
,
The Other Guys
).
When this film was released in June of 2009, composer Michael Giacchino had just provided two of his finest scores for, arguably, two of the best films he's ever scored (
Star Trek
and
Up
). Film music fans were understandably disconcerted at the composer's involvement here. Giacchino throws out a lot of ideas in this score, and though it never quite coheres as an album, it's still a fun listen.
Anchoring the score are two distinct themes. The first, which kicks the film off ("Swamp and Circumstance") is a creepy seven-note theme on high strings which suggests the mysterious world its protagonists will soon stumble upon. The end of the cue hints at the second theme, which comes into its own in "The Lighter Side of Archaeology", a nine-note melody for Marshall that asserts itself on low-end piano and tribal percussion.
A warmer minor melody for Marshall overcoming his self-doubt appears on trumpet in "Food Coma for Thought" and "A New Marshall in Town". Giacchino provides some ferocious action scoring for horns in cues like "The Ones that Got Away", "Crystal Clear" and "When Piss on Your Head is a Bad Idea" (it's nice to know that the composer will never cease to amuse himself with the track titles).
Remember when I said that it never quite coheres as an album? From track to track, you never know what to expect (especiallly if you listen to the CD on shuffle), like one track could be a cacophonous mish-mash of percussion ("Chaka Chasedown"). Another track could be earmarked by bouncing banjos ("The Cosmic Lost and Found"). Still another can shift from piano and percussion to 70s-style funk within seconds ("In Search of...Holly"). Banjos, low-end piano and horn hits can greet you in yet another cue ("Enik Calls for Marshall"). Theremin and grunting choir? We got that too! ("Sleestak Attack")
There's also surprising emotion to be found. As Holly discovers "The Crystal Cave" and the fate of the Zarn, Giacchino gives the mystery theme its most evocative setting since the first cue, playing it first on strings, then doubling it with female vocals. The effect is just short of heartbreaking. Late in the album, we are treated to a love theme on keening strings (the beginning of "Never Trust a Dude in a Tunic").
On the heels of the composer's work on the previous year's
Speed Racer
(speaking of high-profile film adaptations of television shows cruelly and unfairly dragged through the mud...), one would expect the classic theme song to be all over the score...and one would be wrong. After all, that film was pretty faithful to its source. Giacchino seemed to understand that this translation would be somewhat looser, so the theme appears sparingly in his music, which strengthens the impact when it does. When the team takes its fateful trek into the unknown (the back half of "The Greatest Earthquake Ever Known"), Giacchino provides a lurching horn and percussion take on the lyric 'Marshall, Will and Holly/on a routine expedition'. (The worried horn quote of 'Marshall, Will and Holly' that begins "Matt Lauer Can Suck It" is also noteworthy.) However, the composer saves the full theme for "Ready and Will", giving it a sweeping orchestral treatment that wouldn't been out of place in a straighter version of the story.
True to the chaotic spirit of the film, "End Credits Can Suck It!" cycles through both main themes on everything from drums, French horns, electric guitars and xylophone to strings, banjos, theremin and choir.
If you're willing to take a chance on one of the mutts in Michael Giacchino's career (and don't mind a bit of musical schizophrenia), you'll enjoy
Land of the Lost
.
Availability:
I'm not sure how or why this happened, but quite a few Varese Sarabande titles from the last decade were palmed off on Family Dollar, this one included. There might still be some copies left for $4.
Varese Sarabande 302 066 975 2 (2009)
Track Listing:
1. Swamp and Circumstance (1:25)
2. The Lighter Side of Archaeology (1:03)
3. Food Coma for Thought (1:01)
4. A Routine Expedition (0:48)
5. The Greatest Earthquake Ever Known (3:12)
6. Matt Lauer Can Suck It (1:22)
7. Chaka Chasedown (0:43)
8. The Ones that Got Away (4:17)
9. Enik Calls for Marshall (1:16)
10. Sleestak Attack (2:01)
11. Enik the Altrusian (3:20)
12. The Cosmic Lost and Found (1:34)
13. When Piss on Your Head is a Bad Idea (3:54)
14. A New Marshall in Town (1:37)
15. Pterodactyl Ptemper Ptantrum (0:42)
16. The Crystal Cave (1:43)
17. In Search of...Holly (1:34)
18. Undercover Sleestak (2:18)
19. Never Trust a Dude in a Tunic (4:17)
20. If You Don't Make It, It's Your Own Damn Vault (2:40)
21. Holly Mad as Sin (0:50)
22. Sleestak Showdown (0:53)
23. Stakbusters (2:33)
24. FIGHT FIGHT FIGHT (1:27)
25. Crystal Clear (2:31)
26. Mystery Cave Reunion (1:22)
27. Ready and Will (1:36)
28. End Credits Can Suck It! (3:26)
29. Pop Goes the Sleestak (0:16)
Bonus Tracks:
30. A Routine Expedition (Ver. 1) (0:50)
31. The Devil's Canyon Mystery Cave (Ver. 1) (2:04)
32. Crystal Clear (Film Version) (2:19)
Labels: My Favorite Scores